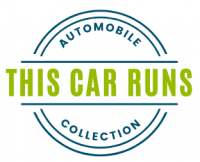 The Stutz was one of America's first real sports cars. It was designed for speed and racing with an early version of a performance engine. The car was built low to the ground with fenders, running boards, and lighting equipment which could all be easily removed to reduce weight. Stutz's victories were highly publicized. Based on a favorable outing in the first Indianapolis 500 in 1911, Stutz adopted the motto "The car that made good in a day."
In 1915, a stock Stutz Bearcat was driven by Erwin "Cannon Ball" Baker from Los Angeles, California to New York City in the record time of 11 days, 7 hours, and 15 minutes. This feat inspired the later Cannonball Run movies and television show.
Fierce competition existed among the early American sports car producers, especially between Mercer and Stutz. Mercer owners would taunt "You must be nuts to drive a Stutz," while Stutz owners would retort "Nothing's worser than driving a Mercer."
MANUFACTURER: Stutz Motor Car Company of America, Indianapolis, Indiana (1913-1935)

PRICE NEW: $2,000

AVERAGE ANNUAL INCOME 1915: $633

PRICE TO BUY 2019: $49,909

ENGINE: 4-cylinder T-head configuration, cast in pairs, 390 cu. in. / 6.4 l.
More from our automobile collection:
In our current exhibit, From Carriage to Classic: How Automobiles Transformed America, we present the origin story of the American automobile through 23 cars from Heritage's permanent collection of antique and classic automobiles. Come along for a ride from the late 1800s to the 1960s and watch the car evolve from a horseless carriage to a streamlined symbol of freedom and independence.