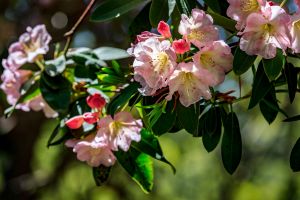 Rhododendrons & Azaleas: Garden Design Series
How do you design a fabulous garden around a signature plant? That's the question that Heritage's Director of Horticulture, Les Lutz, will tackle in this first of three webinars on garden design.
Heritage is known for its amazing display of rhododendrons in May – now you can learn how to achieve similar results at home!
In this webinar, Les will cover the basics of how to care for these woody ornamentals. Topics include best practices for pruning, watering, fertilizing, mulching, pest control, and dead-heading.
Les will also share building blocks for designing your home garden around these lovely perennial shrubs. Learn how color, texture, size, and shape influence the aesthetic appeal and the health of the plants in your garden. You can achieve a prize-worthy oasis in your own backyard!
The live webinar will include time for questions, as well as a PDF of the slides for your reference. Additionally, all program registrants will receive a link to the video recording, available for 48 hours after the event. Advance registration is required. Don't miss this important "how-to" workshop – register today!
For more information on our rhododendron collection, view the Dexter Rhododendron Garden page and rhododendron care tips,   or read this  New York Times article on Dexter's Rhododendrons.
MEMBER:

$17

NON-MEMBER:

$27

MEMBER BENEFITS:

Benefit Package Free Program Passes may be used for this program. Add your discount code during check-out, or contact the Development Department at 508-888-3300 x119 or x159 for assistance.
Speaker
Les Lutz

Director of Horticulture

As Director of Horticulture and Facilities, Les is responsible for all things horticulture on our 100 acres, including garden design and improvement, as well as the world famous collection of Dexter rhododendrons. Les received his training at the acclaimed Longwood Gardens program. During his distinguished career, he held positions at prestigious institutions such as Longwood Gardens, the New York Botanical Garden and the Omaha Botanical Garden, and ran his own landscape design firm, before taking the directorship position at Heritage Museums & Gardens in 2012.