How Automobiles Transformed America
In From Carriage to Classic: How Automobiles Transformed America, we present the origin story of the American automobile through 26 cars from Heritage's permanent collection. How did the car emerge as a transformative cultural force of the twentieth century? What were early automobiles like? How did gasoline become the fuel of choice? How did the car change the daily lives of ordinary families? It is difficult to overestimate how much the introduction and widespread adoption of the auto transformed almost all aspects of American culture and daily life. Come along for a ride from the late 1800s to the 1960s and watch the car evolve from a horseless carriage to a streamlined symbol of freedom and independence.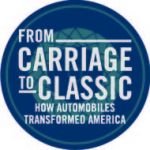 Now in its third year, the exhibit features seventeen new cars for the 2021 season, along with nine returning favorites. Two cars featured on the upper level are the 1910 Sears Model P Surrey and the 1910 Cadillac Model 30 Roadster. These two autos could not be more different, despite the fact they were manufactured the same year. The Cadillac was designed for wealthy customers who demanded the latest in automotive technology – and the price showed it, at $50,000 in 2021 dollars. By contrast, the intended customers for the Sears Surrey were rural, and perhaps more conservative in taste. They needed a vehicle that could withstand driving on rough rural roads. Sitting higher off the ground, with puncture-proof solid tires, this car was rugged and easily afforded (at just over $12,000 in 2021 dollars) and repaired by any farmer.
Also featured on the upper level this season are the 1912 Mercer Raceabout, the 1912 Oldsmobile Autocrat, and the 1915 Stutz Bearcat. These vehicles are displayed side-by-side, showing all of our early racing cars for easy comparison. Besides being fun, car racing has served a very practical purpose from the beginning. In the early days of automobiles, it was not yet clear that cars would be the dominant mode of transportation in the future. Each manufacturer made racing versions of their cars specifically to prove to a still-skeptical public that cars were durable, fast, and reliable.
On exhibit for the first time in many years is the 1920 Auto Red Bug. Often mistaken for a go-cart, this is in fact a small electric automobile. It was simply constructed and inexpensive to buy, so for many families a Red Bug served as a second car. Many estate-owners and farmers purchased them for getting around their property. Some island communities that would not allow full-size gasoline-powered cars, did allow the use of electric vehicles like the Red Bug.
Making its exhibition debut, is the museum's most recent vehicle acquisition – a 1965 Ford Country Squire station wagon. Many visitors can remember a station wagon like this from their own childhoods, often with a healthy dose of nostalgia. Since station wagons were neither well cared for nor considered worth saving, this example is a real find. The car has its original Tropical Turquoise paint, and the matching color interior. This car is a top of the line model, so it came standard with the Cruise-O-Matic automatic transmission and factory-installed air conditioning, and the largest engine option at 300 horsepower 390 cu. in V-8.
Heritage is fortunate to have a wide variety of Ford vehicles in the collection, and the Ford Motor Company is, arguably, the most important auto manufacturer, beginning with its origins in 1903, and surviving market conditions that have forced other auto manufacturers to close. In this exhibit, visitors can take a deep dive into Fords this year, beginning with the 1913 Model T, up to our most recent acquisition, the 1965 Ford Country Squire station wagon. Also included on exhibit are the 1915 Ford Roadster Pickup, 1931 Ford Deluxe Phaeton, 1935 Ford Phaeton, and 1950 Ford. Visitors to the exhibit can even take a seat in the Model T, imagining what it was like to drive one of these early, yet transformative vehicles.
Recent Automobile News & Blogs
Learn a bit from Jon Elmendorf on our auto committee about Heritage's auto collection.
On Saturday, September 12th, Heritage will host a Celebration of American Automobiles. This event will highlight some of the amazing, American-made automobiles from our collection, and also pay special tribute to the 60th anniversary [...]
"Collecting, like most passions, has the capacity to let you live in another world for awhile." – Kim A. Herzinger, Ph.D.: Collector, Pushcart Prize-winning critic and writer, and faculty member at the University of [...]