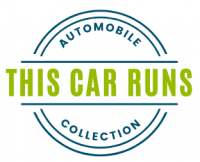 In the early days of motoring, Peerless, Packard, and Pierce-Arrow were known as "the three Ps." This great trio of American car manufacturers competed to produce the most highly regarded luxury vehicles of their day. Early ads of the time claimed the Peerless defeated other American and foreign cars in "speed, hill-climbing, and endurance."
Like a number of successful automakers, Peerless had manufacturing origins far removed from transportation vehicles. Peerless began by making clothes wringers, moved from there to bicycles, and then to small cars before entering the luxury car market.
This car is an excellent example of what is called a "Brass and Gas" auto. These cars are so named because they feature brass radiators, headlights, and trim, were fueled by gasoline, and used acetylene gas for their headlamps.
Once prestigious and powerful, Peerless was a victim of the Depression. After Prohibition ended in 1933, the company switched to a potentially more lucrative product: the brewing of beer and ale.
MANUFACTURER: Peerless Motor Company, Cleveland, Ohio (1900-1931)

PRICE NEW: $4,300

AVERAGE ANNUAL INCOME 1910: $574

PRICE TO BUY 2020: $116,420

ENGINE: 4-cylinder T-head configuration cast in pairs, 410 cu. in./6.7 l.

HORSEPOWER: 30
More from our automobile collection:
In our current exhibit, From Carriage to Classic: How Automobiles Transformed America, we present the origin story of the American automobile through 23 cars from Heritage's permanent collection of antique and classic automobiles. Come along for a ride from the late 1800s to the 1960s and watch the car evolve from a horseless carriage to a streamlined symbol of freedom and independence.