1908 Waltham-Orient Buckboard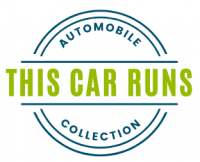 In the early days of motoring, lightweight and inexpensive autos like this one were very popular. Referred to as "buckboards" because of their wooden construction, they were designed to withstand the rigors of traveling on the muddy and rutted roads of the time. Buckboards were particularly attractive to country doctors, farmers, and others forced to travel in less-than-ideal conditions. The first buckboards released by Waltham in 1902 were crude with no suspension, tiller steering, and a very basic wooden body. However, they cost only $375, allowing the company to advertise the car as "The Cheapest Automobile in the World."
By contrast, this improved 1908 Waltham-Orient is rather deluxe with its full elliptic springs, fenders to keep mud off driver and passenger, a top, a tilt steering wheel, and a quick, precise internal rack and pinion steering mechanism. Interestingly, the engine is located at the rear of the car and the exhaust is directed out the front.
In late 1908, just after this car was built, Charles Metz took over the financially strapped Waltham Company and created one of the first "kit" cars from the mountain of car parts left in the factory. Customers could assemble their own car by ordering one package at a time for $25 each, with fourteen packages needed to complete the car.
MANUFACTURER: Waltham Manufacturing Company, Waltham, Massachusetts (1902-1908)

AVERAGE ANNUAL INCOME 1908: $519

PRICE TO BUY 2019: $11,325

ENGINE: 1-cylinder overhead valve configuration, 35 cu.in./.6 l.
More from our automobile collection:
In our current exhibit, From Carriage to Classic: How Automobiles Transformed America, we present the origin story of the American automobile through 23 cars from Heritage's permanent collection of antique and classic automobiles. Come along for a ride from the late 1800s to the 1960s and watch the car evolve from a horseless carriage to a streamlined symbol of freedom and independence.