Hi, I'm Amanda, Assistant Curator here at Heritage. I was the primary researcher for the Let's Play! exhibition, now on view in the Special Exhibition Gallery. What a fun project this has been to work on! It has been a blast learning the curious histories of some of America's best loved toys—and such fun to discover that so many of them have New England roots! It was hard to narrow it down, but here are 10 of my favorites. I admit, most of these were a surprise to me! I had no idea they were made in New England! Can you think of others? Enjoy!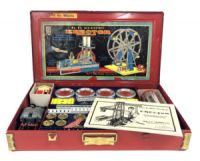 Erector Set, A.C. Gilbert, New Haven, Connecticut, 1913
Still in production today, the Erector Set is one of the oldest and most successful construction toys ever made. Looking out his train car window one day in 1911, Alfred Carlton Gilbert watched power lines being installed. The shape of the giant steel girders inspired him to make a toy. The next day, he brought a cardboard mock-up to his factory to be fabricated in steel with actual nuts and bolts as fasteners.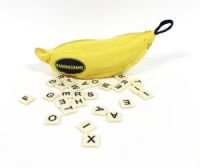 Bananagrams, Providence, Rhode Island, 2006
Abe Nathanson's family were game players—they loved Scrabble but wanted a faster paced game that could be played by the whole family together. There was a lot of testing and experimenting before Abe hit upon the winner—a speedy combination of Anagrams and Scrabble. The game got its name when Abe exclaimed, "This anagram game will drive you bananas!"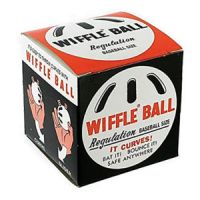 Wiffle Ball, Fairfield, Connecticut, 1953
The Wiffle Ball was invented by David Nelson Mullany, who saw his son and a friend trying to play baseball with a plastic golf ball and broom. Their arms were tired from trying to throw curve balls. Mullany used his expertise as a former semi-pro pitcher to make a bunch of balls to try. The winner was the classic design with eight holes which produced a great curveball. It got its name from all of the "whiffs" the neighborhood boys made trying to hit the trickster ball.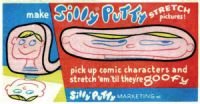 Silly Putty, the most famous mystery goo, New Haven, Connecticut, 1943
Silly Putty was originally invented in Connecticut by chemist James Wright. While working for General Electric during World War II, Wright was looking for an alternative to rubber. He mixed boric acid with silicone oil and came up with a bouncy, squishy goo that would stretch, would not go moldy, had a high melting temperature, and could stick to (and be cleanly removed from) a variety of surfaces. Not enough like rubber to solve the problem. Wright couldn't find a use for the mystery goo except as a gag at parties. Eventually, it got into the hands of a marketer, Peter Hodgson, who packaged a batch of it into plastic eggs and sold them for $1 a piece. Sales were slow until a mention in New Yorker magazine. Within three days of the article's publication, sales hit 250,000. Silly Putty has since found all kinds of uses. Occupational therapists use it to assist with hand injuries. Stress relief. Hair and dust remover around the house. Apollo astronauts even used it to secure their tools in zero gravity!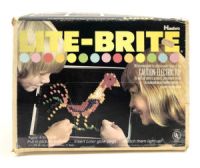 Lite-Brite, Hasbro, Pawtucket, Rhode Island ,1967
Lite-Brite was invented by Burt Meyer of the legendary toy design firm Marvin Glass and Associates (their other credits include Rock 'Em Sock 'Em Robots, Mouse Trap, Operation and Simon). Meyer and his colleagues were in New York City for the 1966 Toy Fair and walked past a glowing, colorful window display on Fifth Avenue. They were all captivated by it and were determined to make a toy to mimic the same effect. Complete with a 25-watt lightbulb and plastic pegs, Lite-Brite was originally released by Hasbro in 1967 and is still in production today.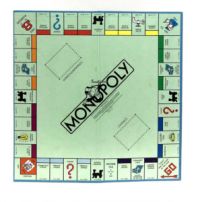 Monopoly, Parker Brothers, Salem, Massachusetts, 1936
Monopoly is one of the top selling and most popular board games of all time. It was a hit from its first release by Parker Brothers in 1936 and likely saved the company from bankruptcy. Over its long history, it has become a touchstone of American pop culture and is also a quintessential reflection of American capitalism. "Get out of jail free card," "Do not pass go" and "Rich Uncle Pennybags" are just a few Monopoly catch phrases that have caught on and stuck. One of the best stories about Monopoly is that during World War II, the British Secret Intelligence Service had Waddingtons (the British licensing company of Monopoly in the UK) produce a special edition Monopoly for POWs held by the Nazis. Hidden inside the cardboard game was a silk map, a compass, real money and other useful tools for escape. They were distributed to prisoners by fake charity organizations.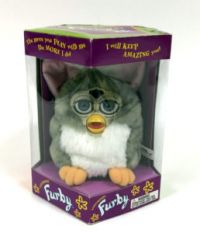 Furby, Hasbro, Pawtucket, Rhode Island, 1998
There were animatronic toys before Hasbro's Furby, but they were expensive, clunky, and one-sided. There were electronic pets (the Tamagotchi) but you couldn't pet them. There were smash toy hits, but nothing like this. Furby offered a seamless integration of technology and aesthetics that was irresistible. It was interactive! It was affordable (only $29.95). It was furry! And its popularity was astonishing. In Furby's first three years, 40 million were sold.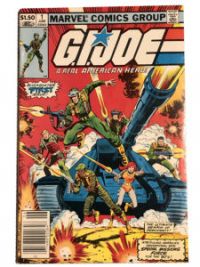 G.I. Joe, the world's first "action figure", Hasbro, Pawtucket, Rhode Island, 1964
Stanley Weston, the man behind the original idea for G.I. Joe, imagined it as a male counterpoint to Barbie. You could not only sell the doll, but an unending stream of accessories too. Hasbro took Weston's idea and ran with it. The initial set had four characters, one for each division of the U.S. military. There was one major concern: the marketing team at Hasbro thought no one would be interested in a "doll" for boys. So, they coined the term "action figure." G.I. Joe became (and remains) the most popular action figure of all time. Hasbro's 1980s re-release of G.I. Joe started the trend of creating comic books and TV shows to market the toys—a strategy that worked so well it would be repeated with My Little Pony, Transformers, and many more. In the 1980s, one in three American boys played with G.I. Joe.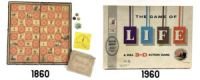 Game of Life, Milton Bradley, Springfield, Massachusetts, 1860, 1960
In the early 1860s, a young, ambitious man named Milton Bradley had just purchased a lithography press and was desperate to make it profitable. He put his own twist on the morality style games that were common at the time. The rules of the game mirror Milton Bradley's own ideas about how to lead a success and happy life. In its first year, it sold more than 45,000 copies. It became one of the most popular board games of that century and solidified Milton Bradley's place as one of the top game makers of the nineteenth century. In 1960, the Milton Bradley Company decided to rerelease (and redesign) The Checkered Game of Life in honor of the company's one hundredth birthday. Changes included adding the three-dimensional board and the clicking spinner. As money was introduced, the game's rules changed and redefined how to win. Instead of trying to make it to HAPPY OLD AGE, twentieth century players had a different goal: get rich and retire.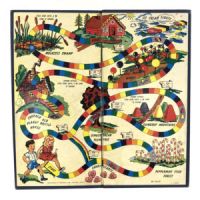 Candy Land, Milton Bradley, Springfield, Massachusetts, 1949
In the 1940s and 50s, America was in the middle of a polio epidemic, a viral infection that often left children with some degree of paralysis and could be fatal. Healthy children were kept inside by parents fearful of the virus; children infected with polio were hospitalized for weeks at a time. Schoolteacher Eleanor Abbott created Candy Land—a fantasy of freedom and adventure in a magical, rainbow-hued world—while she was hospitalized for polio herself. Despite the fact that it came out 71 years ago, 94% of American mothers know it and more than 60% of households with a five-year-old child own a copy. It still sells 1 million copies every year.