Nestled in a two-acre dry kettle hole—a glacially formed depression common to Cape Cod—Hidden Hollow's unique topography provides a stimulating and beautiful outdoor setting for discovery and learning. Designed for families with children between the ages of 2-10, this space features several activity areas that encourage families to rediscover the joy of being outdoors together. A wide range of COVID safe activity areas provide opportunities to explore nature while engaging curiosity and building 21st century skills.
Children can climb stepping stumps, navigate log balance beams, construct forts, create nature-inspired art, build with blocks, dig in sand, experiment with water, make music, engage in sensory investigation with plants, and more.
In September of 2010, Hidden HollowTM became one of the first certified Nature Explore Classrooms in New England and the first at a museum in the region. This national initiative, sponsored by the Arbor Day Foundation and Dimensions Educational Research Foundation, was developed to advance the understanding and appreciation of the natural world and to provide children with meaningful and positive experiences with nature. Each month, we celebrate a new theme to inspire families to explore nature in new ways.
Since Hidden Hollow™ opened in August 2010, more than 330,000 children, teachers, and families have spent the day engaged in outdoor discovery.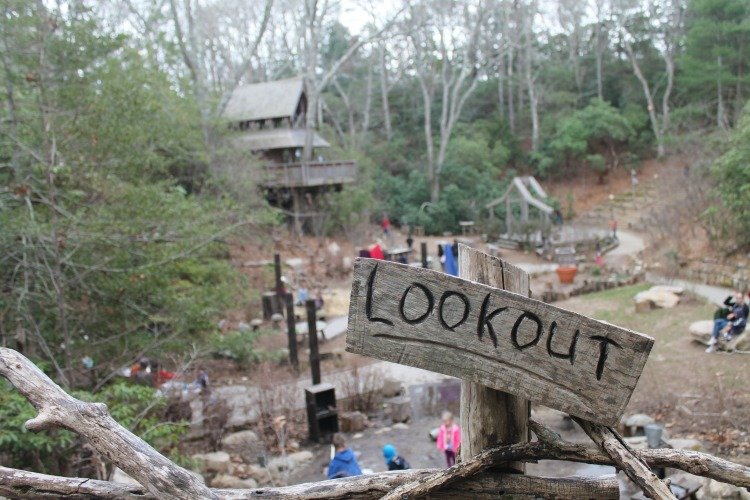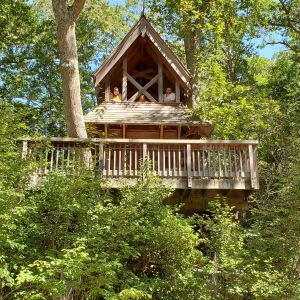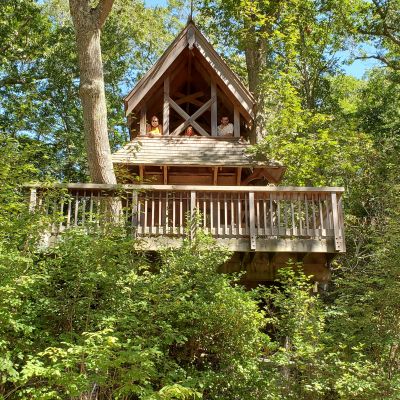 Discovery Trail: The Hidden HollowTM adventure begins as families encounter discovery boxes, custom-crafted by Nick Nobili, that feature clues to the Hidden HollowTM monthly themes. As they wind their way into the area, visitors follow an accessible pathway lined with bricks inscribed with the names of generous donors to the project. Visitors may also enjoy a socially distanced storybook walk as they meander down the path.
Lookout: Upon reaching the semi-circular overlook of ipe decking on the Discovery Trail, a view into the Hollow opens up and families can survey the layout and activities. Visitors may also get information about the space at the kiosk. In Phase 4 we look forward to the return of the Magic Megaphones, an interactive art installation created by artist Brendan Stecchini and gifted by the Muhlebach family that was designed to encourage communication and expression, to teach how sound travels, and to provide a fun way to make some noise.
Move Area: This grassy space is specifically designated for active engagement and provides opportunities for running, rolling, or other larger-motor activities. Monthly activity elements often encourage big body play here.
Create Area: This popular area offers opportunities for hands-on creative expression using a changing variety of materials. In this area families can utilize chalkboard easels around the edges of the circular area and engage in COVID safe nature crafts. The design is inspired by "fairy rings," which are naturally occurring circular growths of fungus. The pinecone shaped tables were crafted by artist Barre Pinske. This area is covered with a shade sail to ensure visitors a comfortable place out of the sun to enjoy activities.
Splash Area: The most popular feature in Hidden Hollow™ is the Splash area, which allows kids to safely experiment with water and its properties.  The Splash area allows visitors the opportunity to experiment with water play to fill buckets, watering cans and other vessels to create experiments by mixing solutions, and helping to maintain the children's planting garden.
In the fall of 2017, the popular hand water pump was joined by new features in the enhanced and expanded Splash area include a dramatic waterfall, an accessible discovery stream for hands-in experimentation with water flow, and two basins for exploration of how objects sink or float. The new features expand children's exposure to STEM ideas as they experiment with a multitude of science, technology, engineering, and math concepts. Experimentation that happens here helps children internalize and understand physical laws of nature, as well as promoting teamwork and dramatic play. Benches are provided for observing Hidden Hollow™ activities.
This area was enhanced in the fall of 2017 thanks to the generous support of the James M. Stoneman Charitable Fund, The Dorr Foundation, and The Cape Cod Five Cents Savings Bank Charitable Foundation Trust.
Construct and Dig Areas: Today's children have fewer and fewer opportunities to interact with wild, natural areas that allow for free exploration and experimentation. Their ability to be messy is also more and more restricted, and more of their time is spent indoors or in manicured outdoor settings. In these areas, children can dig in the sand, maneuver large materials such as sections of tree stumps or build forts with branches.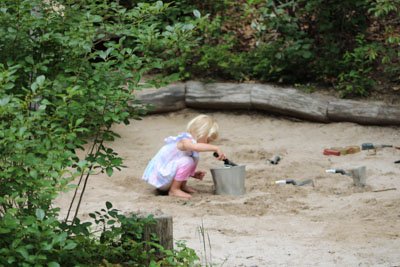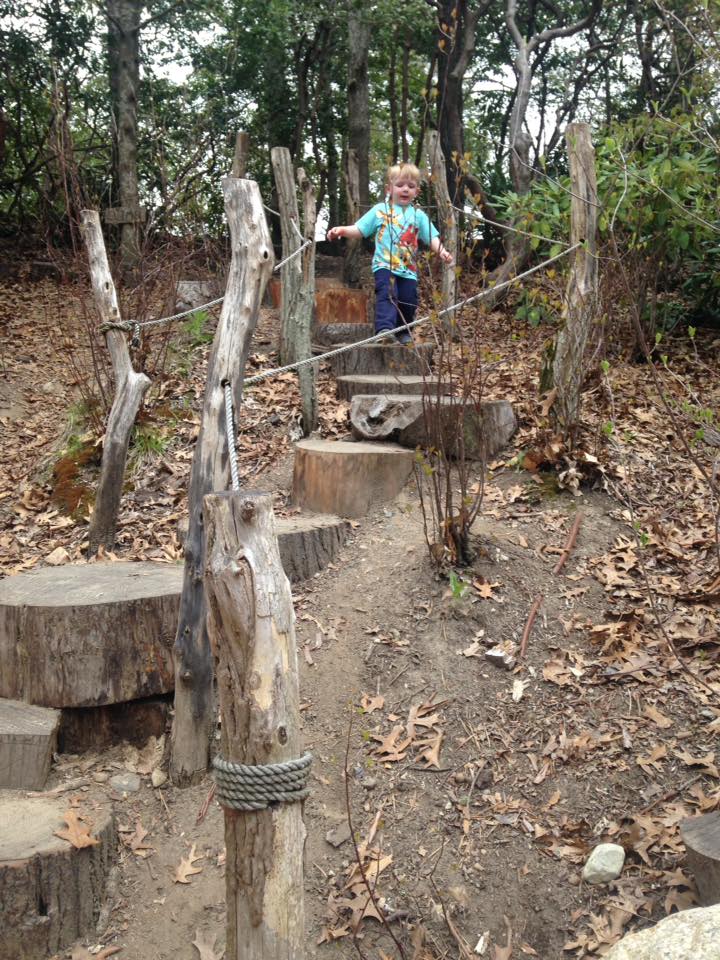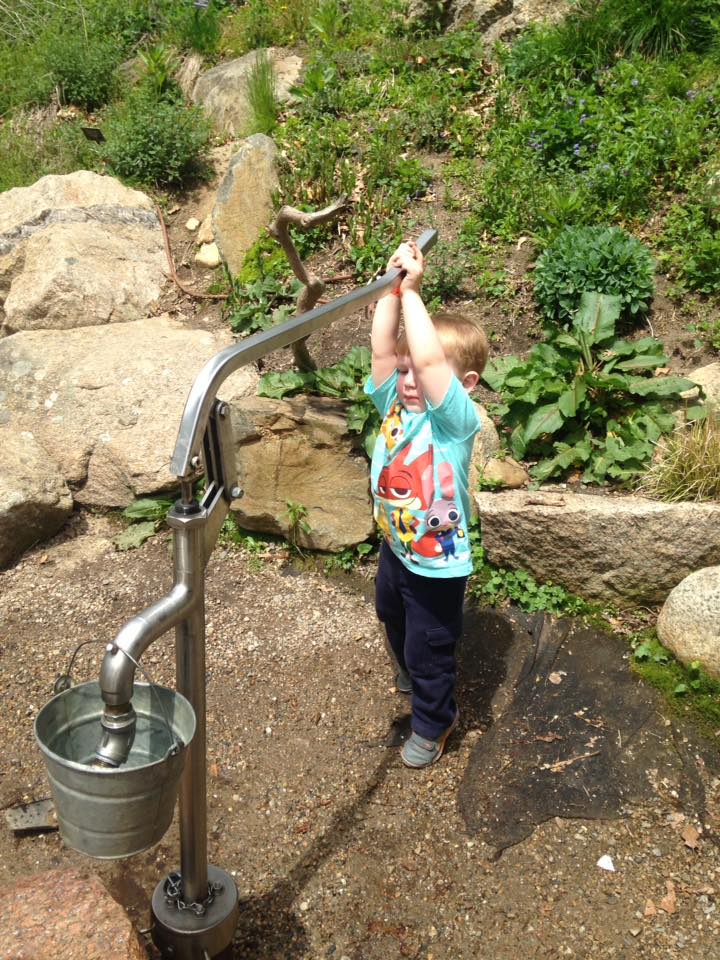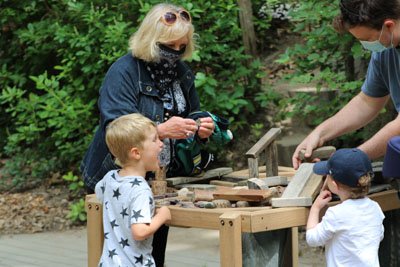 Build Area: This acorn-shaped area with flooring made from locust stump sections encourages children to build with wooden blocks with lots of room and no worries about noise (block play has actually been banned in some classrooms for this reason). Natural Materials are all COVID safe and are cleaned regularly.
Different types of building blocks are available, including rectangular blocks representing many different species of wood, naturally shaped organic blocks cut from pruned trees throughout the property, and small clay bricks. All allow children to experiment with different shapes and engineering their own structures. Block play strengthens visual-spatial skills, mathematical skills, and abstract thinking. Providing a variety of block shapes allows children to experiment in new ways.
Perform Area: Families experiment with making music and creating expressive movement here using a stage built by the Upper Cape Cod Regional Technical School. The stage is used to hold COVID safe charades, dances, and other creative imaginative play.
Adjacent to the stage you will find custom instruments designed and crafted by Being:Art LLC, a noted Nature Explore instrument builder. This Memphis, TN company was founded by an artist and musician/craftsman team who are also Nature Explore Classroom trainers in music and movement. The instruments include a 2.3 chromatic marimba, a 4-octave kidimbarimba, a 1-octave bass marimba, and 1-octave bass chimes. The sculptural instruments are crafted of ipe and cedar woods and are designed to be easily played by multiple people. They are finely tuned to multiple scales that are designed to sound harmonic and melodic together.
The instruments can be used to teach principles of sound, pitch, rhythm and tonality, and naturally promote improvisation and spontaneous community interaction. Playing rhythmic patterns and keeping tempo employs intrinsic math skills as well as fostering kinesthetic awareness and hand-eye coordination.
Hidden away in Cape Cod's Heritage Museums and Gardens, a collection of cars traces the history of American [...]