Kindergarten at The Hundred Acre School
Since the school opened in 2014, our preschool families consistently requested that we expand our offerings so that students would be able to utilize the dynamic learning environment at Heritage Museums & Gardens, our STEM focused curriculum and our talented educators. Parents also expressed the importance of play based learning and opportunities to learn in, about and with nature. Our full day Kindergarten program began in 2019 and was filled to capacity on year 1. In the fall of 2020, we offered a 5 day a week, in-person kindergarten program during the peak of the pandemic by leveraging our small class size and the typical average 2.5 hours of outdoor learning opportunities daily. What is unique about our school is the daily schedule flexibility to meet students needs, our curriculum is hands-on and utilizes the outdoors as a springboard to learning, and our small class size allows for individual attention. One family made this analogy about attending a small school, "I'm grateful that my young student gets to swim in this pond, before jumping in the ocean." Our goal is to teach the whole child while fostering strong social, emotional, and intellectual growth and emphasizing STEM as a springboard to multidisciplinary learning.
Our program is a full day from 9 a.m. – 3 p,m. with extended day options
Students are accepted on a rolling basis until the program is full. We typically have students from Sandwich and many towns on and off Cape Cod.
The Kindergarten program will be located in the original wing of the school maximum capacity of 14 students per classroom per day.
Our maximum student-teacher ratio is 14:1 which is determined by licensing regulations.
Our Kindergarten teachers are licensed and have at least a BA in Education, learn more here.
3 Steps Application Process
Step 1: Fill out the Enrollment Request and create a Brightwheel account.
Step 2: School Director will reply via Brightwheel with an application fee invoice and 3 additional online forms gathering information about your child. You must complete this step before your child will be reviewed for acceptance.
Step 3: School Director will reply within 1 week after the final item in step 2 is submitted. Please note that applications will be reviewed in the order that step 2 is completed. If we have openings, an acceptance letter and tuition deposit invoice will be sent via Brightwheel. If we have a waitlist, you will be notified of your status and contacted when space is available.
Our curriculum is taught through a STEM lens meaning that we approach concepts with curiosity and discovery. During the school year, students will study a series of investigations depending on their interests, teacher goals and environmental influences. Each investigation aligns with the Massachusetts standards for Kindergarten. The first Investigation of the Year: "The Scientific Method: Conducting Science Experiments" connects students to their own curiosity as they learn about their classroom routines and practices. The remaining investigations can be taught in any order depending on teacher goals, student interest, and environmental or social influences. Our elementary students also utilize literacy curriculums and a mathematics curriculum to strengthen development of these skills.
Kindergarten Daily Schedule (Download PDF)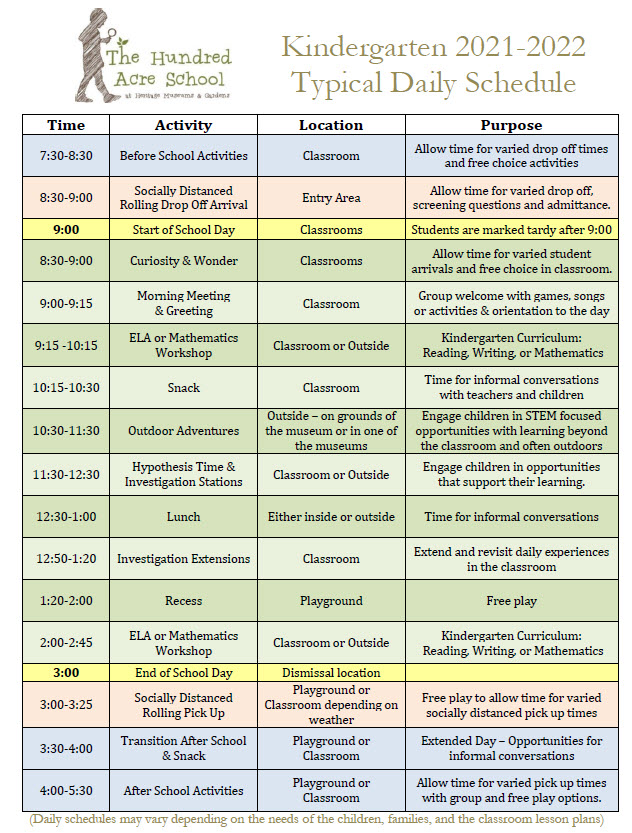 Full-Day & Extended Day Options For All Grades